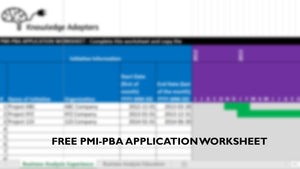 This worksheet can be used to help track your work experience for the PMI-PBA application. Add it to your cart and check out to download the worksheet. This incorporates the changes that PMI made to the application process as of June 2020.

Prepare for your PMI-PBA exam by taking our Online, Self-Paced PMI-PBA Course.
The following videos can be used to start your PMI-PBA journey.
Watch this video on information about the PMI-PBA exam, including high level qualifications for the exam, the application process, sample PMI-PBA questions, and exam taking tips.
Watch this video for a demo on how to use the application worksheet once you have downloaded it.